Hinduism / Sanatan Dharma / The Everlasting Religion
It is world's 3rd largest religion after Christianity and Islam. Hinduism is the dominant religion in India, where Hindus form about 84 per cent of the total population. It is based on the concept that human and animal spirits come back to earth to live many times in different forms. The Hindus believe that a soul moves up and down hierarchy on the basis of behavior. It says that a person (He or She) is born into the higher class or poverty class depends deeds in past life. Central to it are the concepts of reincarnation, the caste system, merging with Brahman, finding morality, and reaching Nirvana (the peaceful escape from the cycle of reincarnation).

Reincarnation Or Rebirth Or Transmigration
It is the religious concept that an aspect of a living being starts a new life in a different physical body or form after each biological death. It is a part of the Saṃsāra doctrine of cyclic existence.


Types Of Hindu Scriptures

Sruti
Smriti
(WHAT IS HEARD)
(WHAT IS REMEMBERED)
GODS WORDS HEARD BY SAGES.
HISTORIES OF INDIA.
VEDAS (1200 TO 1000 BCE)
LAWS OF MANU (200BCE TO 200 CE)
UPANISHADS
MAHABARAT, BHAGAVAD GITA
BHAGAVAD GITA
RAMAYANA`
PURANAS(500 TO 1500 CE)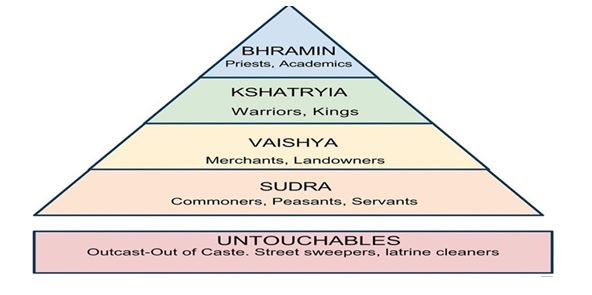 It refers to division of society into different groups based on their occupation. Later transformed into division based on the birth of individual.


Home
Back